Öppet idag: 15:00 – 22:00
WELCOME TO edsbacka krog iN sollentuna!
Edsbacka Krog is located by Edsviken in Sollentuna, just outside Stockholm. The first Inn at this location was founded in 1626 where, at the time, important roads and routes between Stockholm and Uppsala met. Today, Edsbacka Krog is just fifteen minutes from Stockholm City, ten minutes from Arlanda airport and some forty minutes from Uppsala.

At Edsbacka Krog, we offer a'la carte dining within the concept of social dining, daily lunch and weekend specials. Edsbacka Krog is also the perfect choice for family events, holidays and celebrations as well as corporate events such as conferences, release parties and kick-off.
Edsbacka Krog is open all around the year, yet in the summer we have the pleasure to offer our outside patio with grill and outdoor bar for all your leisure needs. Welcome to Edsbacka Krog!
UPCOMING EVENTS AT EDSBACKA
edsbacka krog – HOSPITALITY sINCE 1626!
Edsbacka Krog is located near the northernmost shore of Edsviken in Sollentuna, just north of Stockholm. The first Inn opened here as far back as in 1626 when the grocer Henrik Olofsson earned a special permit from Swedish king Gustav II Adolf which gave him the right to establish an inn at Edsbacka, next to the important country road between Stockholm and Uppsala.
The Inn offered its services for travellers and bypassers until 1872 when it was forced to close due to revoked alcohol permit and a declining number of guests. Following the closure, the white stone building was used as a primary school, worker housing and a poorhouse, but later also for artists and crafts.
At the Valborgsmässoafton, 30th of april, in 1983, one hundred and eleven years after the closure, the star restaurateur Christer Lingström re-opened Edsbacka Krog. During the following 27 years, the restaurant received no less than two stars in the Guide Michelin.
Following a brief period being called Edsbacka Wärdshus, the restaurant has since 2020 new owners in two committed and food-loving Sollentuna residents – Björn and Silvia Johansson – and was once again re-named to Edsbacka Krog.
The ambition for Edsbacka Krog is to preserve the unique atmosphere and environment that surrounds Edsbacka and serve classic Swedish tastes and flavors in the finest cooking tradition!
Welcome to Edsbacka Krog!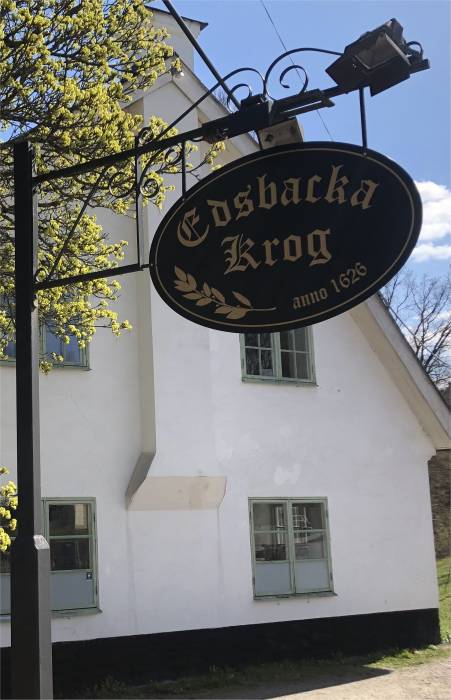 AT Edsbacka Krog
EN KORT HISTORIK
EDSBACKA – en kort historik Edsbacka Krog är belägen vid den långsträckta […]
Läs mer >
Fest & Evenemang
Fira födelsedag, familjefest, dop och drömbröllop – men även minnesstunder – i Edsbackas lokaler! Läs mer om event & fest >
Välkommen till bords!
Bordsreservationer gör du enkelt här via vår bokningsfunktion – men det går även bra att maila eller ringa. Boka bord >
Öppettider
Onsdag – Fredag
11.30 – 22.00
Obs! Edsbacka Krog abonnerat
Söndag 1 Oktober – ingen brunch!
Hitta hit